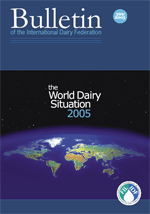 In case you're wondering what the situation is on "dairy" in the world there's a report available now (70 euros) from the International Dairy Federation called, "World Dairy Situation 2005."

Results of annual survey presented by the Chair of the Standing Committee "Dairy Policies and Economics" at the IDF World Dairy Summit, Vancouver, September 2005. The 2005 edition of the World Dairy Situation report includes the customary collation of figures and comments from IDF National Committees and other sources.
Th organization also announced the appointment of Mr. Christian Robert as IDF Director General effective October 18.