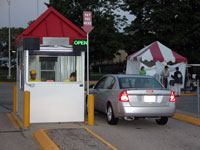 It's opening day so "Welcome To World Dairy Expo!" Here's what you'll see on the way in. Volunteers in yellow shirts who are all smiling and ready to greet the crowds. I came in early but the gates were already pretty active.
The buildings like the Coliseum are still not open. It's very quiet inside as you walk by the rows of booths that are all set up and waiting for today's visitors.
Today's weather forecast calls for: Partly cloudy with isolated thunderstorms possible. A few storms may be severe. High 83F. Winds S at 10 to 15 mph. Chance of rain 30%. Courtesy of the Weather Channel.