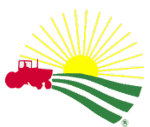 At the Sunbelt Ag Expo today a Florida dairyman received a big award. He's Red Larson from Okeechobee, FL.
Larson was selected for the honor by a panel of judges in competition among eight state finalists in the Southeastern states of Alabama, Florida, Georgia, Mississippi, North Carolina, South Carolina, Tennessee and Virginia.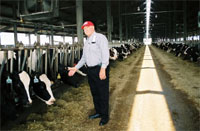 Larson, who has been a dairy farmer for over 57 years, has been named the recipient of the prestigious 2005 Lancaster/Sunbelt Expo Southeastern Farmer of the Year award. His selection was announced today at the Willie B. Withers Expo Luncheon during the opening day of the 28 th annual Sunbelt Expo. The announcement was made by officials of Swisher International of Jacksonville, FL, and the Sunbelt Expo of Moultrie, GA, sponsors of the Southeastern Farmer of the Year award for 16 years.
Dairy farming has been the backbone of Larson's distinguished agriculture career that started in 1948. His first operation was a 160-acre dairy farm that he rented in Dade County, FL. "I heard about that farm for rent so I quit school, got married, sold the house and had enough money to rent it," said Larson. "I had a dairy farm – something I had always wanted."
Today, his massive operation in Okeechobee County covers 10,000 acres with the focus still on the dairy industry. There are over 6,000 milking cows that produce 120,000,000 pounds of milk annually. The average per cow is 21,000 pounds. Grass and hay used for silage covers 3,000 acres and yields 20-25 tones per acre.
"One of the smartest things I did was marry my wife Reda," said Larson. "I couldn't have asked for a better partner in life." They have four grown children – sons Woody and John, who operate their own farming operations and daughters Barbara Stuart of Orlando and Kathy Cooley of Okeechobee.
Once upon a time I lived and worked in Florida and got to know the Larsons, especially Red's son Woody. They are great people and we congratulate Red Larson on his award!