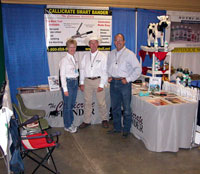 The Callicrate Smart Bander was the first sponsor of World Dairy Diary and that makes them the first sponsor of a farm show blog! In the picture is Rachel Dodd, Tom King and Mike Callicrate.
You can find them in the lower level of the Coliseum. Please let them know you appreciate their support of World Dairy Diary. We sure do!
You can listen to my interview with Mike by using the link in the right sidebar.