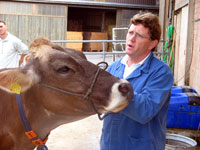 I'm still at the International Federation of Agricultural Journalists Congress in Switzerland. The group got to visit a dairy and here's what we found out. The information is from the IFAJ staff.

Milk producers president is pessimistic about the end of quotas
On the Seeland Excursion people met Peter Gfeller, president of the Swiss dairy farmers union. Gfeller is not only an active lobbyist for the milk producers, but also an enthusiastic Brown Swiss cattle breeder. I like and I love my cows, he said. No wonder, taking into account their performances. Emily for example, his favourite cow, is in her 9th lactation with a lifetime milk production of 80 000 Kilos so far. Long living cows are most profitable, emphasized Gfeller. To prepare the calves and heafers for their long and high yielding milk production careers, he sends them to the alp for two successive summers. He is convinced that the temporary live on 1300 Meters over sealevel is good for their lungs and muscle development. Gfeller is not very happy with the plans of the Swiss authorities to leave the quota system between 2006 and 2009. He thinks, Switzerland should not take that step before the competitors in the EU.