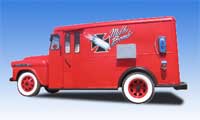 Put a cow in one end and get chocolate and regular milk out the other. Who'd have thought it possible? With a little help from Bou-Matic it is and it'll be on display at World Dairy Expo.

In a bit of reality TV and a lot of professional planning, design, engineering and finish welding and polish help from California Bou-Matic Dealer Turlock Dairy & Refrigeration, the entire five-day process of rebuilding a 1959 Chevrolet milk truck into a mobile milking parlor and the successful conclusion of milking a cow was chronicled on tape.This is all being done for the Discovery Channel show Monster Garage.
The Monster Milker will be featured in the show that airs at 8pm Central time on October 3rd, the day before Expo. I interviewed Bou-Matic's Mark Clarke, product manager, who was on the design team for the truck. You can listen to my interview with Mark here:

(MP3 File 5MB)
Mark describes how the project came about, the team and how they worked to create the design the show wanted and how his company is using it in its promotional efforts.