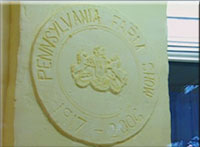 A little butter makes things better. In this case The Farm Show got kicked off in Pennsylvania with a sculpture crafted from 800 pounds of butter that was donated by the Land O'Lakes plant in Carlisle, PA.

The theme for this buttery work celebrates the Farm Show's 90th Anniversary and recognizes the progress made in Pennsylvania's dairy industry. The sculpture depicts an old-time milk delivery wagon pulled by a horse, ready to unload a modern milk vending machine. The Pennsylvania Farm Show and the Commonwealth's dairy industry have worked hand-in-hand throughout the past 90 years. By working with the state's dairy promotion organizations, four milk vending machines have been permanently placed in the Farm Show Complex, providing another way for visitors to enjoy dairy while enjoying the various shows held throughout the year.

You can listen to Pennsylvania Agriculture Secretary Dennis Wolff describe the sculpture here. You can also see a short video clip here.