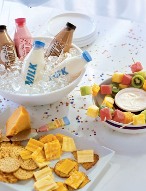 How are you supposed to get your 3 A Day on Super Sunday? It's easy if you use the recipes that the American Dairy Association has posted on their 3 A Day website.
Here's what you'll find:

• Easy Cheesy Chicken Enchiladas with Yogurt Sauce
• Cheddar Cornbread Squares
• Cheesy Broccoli Potato Soup
• Chipotle Pepper Dip
• Hot Pizza Dip
• Mini Toasted Open Subs with Cucumber Yogurt Dressing
• Slow Cooker Fresh Veggie Lasagna

Who cares who wins. It's what you eat that counts.