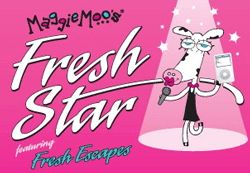 Anything that has an iPod involved catches my eye. MaggieMoo's Fresh Star contest does. Our company is podcasting and hopes to begin doing so here on World Dairy Diary soon. So enter and I hope you win.

MaggieMoo's International is kicking off the start of summer with Fresh Star, a national contest for the taste buds. Beginning May 24 through Sept. 15, customers can go online and vote for their favorite MaggieMoo's Fresh Escape ice cream creation and be automatically registered to win prizes such as iPods and iTunes gift cards.

"For those of you who will be experiencing the post-American Idol blues, here is another opportunity where your vote will decide the fate of the next up-and-coming 'star,'" said Jon Jameson, CEO of MaggieMoo's. "That 'star' just happens to be ice cream."
MaggieMoo's, with mascot Maggie, are rolling out the red carpet for the ice cream voting competition that allows customers to cast their vote online at www.maggiemoos.com for their favorite Fresh Escape, and win prizes. The grand, first and runner-up prizewinner drawings will be held Sept. 15. One grand prize winner will receive a video iPod, MaggieMoo's $100 gift card, $100 iTunes gift card and a Fresh Star t-shirt; 10 first-place winners will receive an iPod Shuffle and a $50 MaggieMoo's gift card; and 100 runner-up winners will receive a $5 MaggieMoo's gift card and Fresh Star t-shirt. Each month, during the contest — June, July and August — 10 winners will be chosen to receive a Fresh Star t-shirt and a $5 MaggieMoo's gift card.