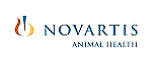 Heifer calves are only valuable to dairies when they are healthy. And one way to help maximize the survivability of a heifer calf is to vaccinate its dam at dry-off.
That's the message from Novartis Animal Health professional service veterinarian Doug Scholz, DVM.
"This is a critical control point where producers can intervene on behalf of the cow to help prepare her for the next lactation and the arrival of her newborn calf," he says.
Novartis recommends that producers consult your veterinarian to determine the best herd health program for your operation. For an example of a herd health program, click here.