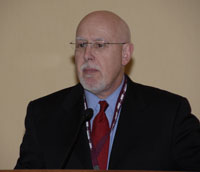 The Beef Checkoff Dairy Producer Forum is underway here at the Cattle Industry Convention.
This is an annual opportunity for beef and dairy producers to get together and learn about how the Beef Checkoff is providing value to the dairy industry. Attendees heard comments from both Mike John, NCBA President, and Jay O'Brien, CBB Chairman.
The featured speaker this year was Dr. Dennis Stiffler, Coleman Natural Foods. He is giving a talk on "Raised Naturally" – Definition and Application.
I got to interview Dr. Stiffler before things got started. He talks about how dairy producers need to have a voice in the process that's taking place from a regulatory standpoint to provide consumers with more standardized definitions of terms like "natural."
Listen to my interview with Dr. Stiffler here:

Dr. Dennis Stiffler Interview (3 min. MP3 File)