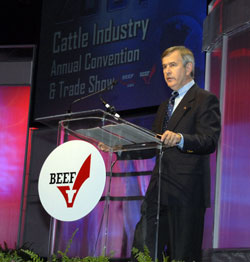 U. S. Secretary of Agriculture, Mike Johanns was on hand here in Nashville today at the Cattle Industry Convention.
He's been on the road since announcing the administration farm bill proposal. I was able to obtain a copy of his speech this morning if you would like to listen.
I was in the media room posting onto Beef Board Meeting.com so I'm afraid I can't summarize what he had to say.
Download and listen to Sec. Johanns here:

Mike Johanns Speech (32 min. MP3 File)
After Johann's speech he conducted a press conference and was asked about dairy in the administration's farm bill proposal. Here's what he had to say:

Mike Johanns Dairy Comment (2 min. MP3 File)