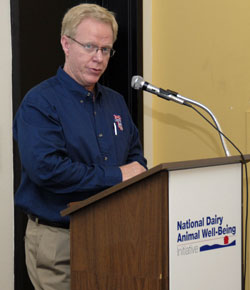 This morning at World Dairy Expo a producer-led coalition of dairy groups and companies announced the National Dairy Animal Well-Being Initiative. They're proposing dairy animal well-being guidelines and principles.
One of the groups participating in the effort is the National Milk Producers Federation. I spoke with their Senior Vice President of Communications, Chris Galen (not pictured) about what his organization is doing and specifically about this new animal well-being initiative. He says that it would be naive to think that the animal rights activists (whackos would be my term to describe them) will ignore dairy since they've been so much on the attack of poultry and pork. The initiative effort he says puts the dairy industry on the offense in addressing the concerns that these well funded groups have on consumers.
Listen to our "Milking Parlor" podcast with Chris here:

Interview with Chris Galen (MP3)
To subscribe to the Milking Parlor podcast, here are some instructions.
2007 World Dairy Expo Photo Album
World Dairy Diary coverage of World Dairy Expo is sponsored by: