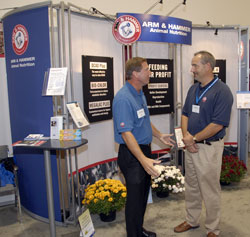 One of the exhibitors here is Arm & Hammer Animal Nutrition Group. They've got a new website up so dairy producers have an online destination to learn more about them and their products.
I spoke with Scott Morey (pictured on the right) who is their Senior Business Manager. He says they're focused on dairy nutrition from a product standpoint and are here to talk about a variety of products.
Scott says that he's hearing from producers that times are good. He wants producers to know that Arm & Hammer is focused on reproduction since they see that there's room for improvement in this area.
Listen to our "Milking Parlor" podcast with Scott here:

Interview with Scott Morey (MP3)
To subscribe to the Milking Parlor podcast, here are some instructions.
2007 World Dairy Expo Photo Album
World Dairy Diary coverage of World Dairy Expo is sponsored by: