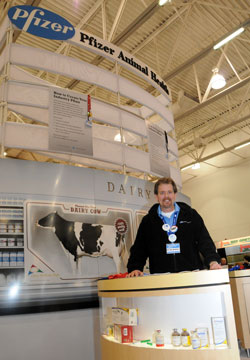 While I was at World Dairy Expo I also spoke with Dr. Gary Neubauer, Pfizer Animal Health, about the fact that EXCEDE has now been approved by the FDA to treat foot rot.
In this interview with him he begins by talking about the company's Dairy Wellness Plan which he says is the flagship of the dairy side of Pfizer. He says it's a 3-pronged approach where "we look at the health and welfare of the cow, we look at the health, welfare and economic vitality of the producer and then we look at the quality, wholesome product for the consumer." He says they strive for a balance of all three of those so that the cow is healthy, the producer is profitable and the consumer has the best quality product.
Gary says that EXCEDE is on of the premier antibiotics in the Pfizer arsenal because of its long lasting formulation and now it's approved for foot rot. That, he says, makes it fit right in with their Dairy Wellness Plan.
You can listen to my interview with Gary as part of our Milking Parlor Podcast: [audio:http://zimmcomm.biz/wdd/milking-parlor-43.mp3]
To subscribe to the Milking Parlor podcast, here are some instructions.
World Dairy Expo 2008 Photo Album
Sponsors of World Dairy Diary coverage of this year's World Dairy Expo include GEA Farm Technologies and BASF Plant Science.