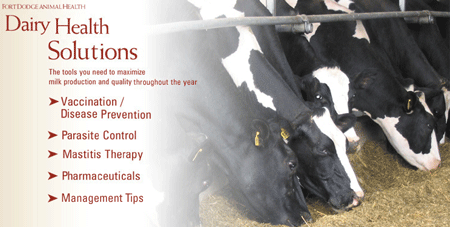 Last week we introduced you to our newest sponsor, Ft. Dodge Animal Health. Besides Pyramid 10 they've got a whole range of other products that they are very well known for so I'm listing some links to more information about their dairy products below.
In coming weeks we hope to provide interviews with Ft. Dodge Animal Health vets and others to talk about the products they have to help the dairy industry.
Vaccination/Disease Prevention
An ongoing vaccination program is critical for maintaining high performance, milk production and beef quality. Protect your investment with the complete line of respiratory and reproductive cattle vaccines from Fort Dodge Animal Health.
Parasite Control
CYDECTIN® Pour-On (moxidectin)
Control production-robbing internal and external parasites with the proven purple pour-on
Mastitis Therapy
Production +
Production + is an innovative program for today's progressive dairies. This program offers proven products and protocols for lactating and dry cows, which improve milk production and quality year round.
Pharmaceuticals
Proven tools to help protect your investment
Aureomycin®, Factrel® (Rx), Flunixamine™ (Rx), Nolvasan®, Polyflex® (Rx), Polyotic®, Re-Covr® (Rx), Sulmet®, Vetisulid®

Management Tips
A series of short course documents on bovine vaccines.