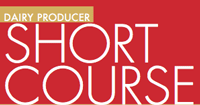 Here is our next installment in a series of online Dairy Producer Short Courses from our sponsor, Fort Dodge Animal Health.
Our topic this week is BVD: AVOIDING PERSISTENT INFECTION.

Never had a PI in your dairy? Good to hear, says Mark van der List, DVM, Fort Dodge Animal Health senior veterinary consultant. You've probably never had a house fi re either, yet that shouldn't convince you to drop your homeowner's insurance. Here's how to stay PI-free.
IF YOU CAN SAY your herd is free of persistent BVD infection, you should be congratulated — but cautious. Uncontrolled BVD costs:
■ Reproductive losses such as early embryonic death, abortions, birth defects and congenitally infected calves — those infected in the womb — which are more likely to succumb to calfhood diseases.
■ Increased rates of mastitis, metritis, pneumonia and other diseases caused by suppression of the immune system.
■ Reduced calf and heifer performance, leading to higher death loss and greater risk of early culling.
Ongoing vaccination using a vaccine labeled to prevent PIs, like PYRAMID 5 or 10, is an essential part of the control program. Vaccinating 30 days before breeding optimizes the cow's immunity during the critical 30 to 120 days of gestation when the risk for PI development is greatest.

Fort Dodge offers Pyramid to combat the BVD virus. You can read more about this disease in their full short course publication (pdf).