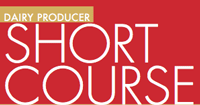 Here is our next installment in a series of online Dairy Producer Short Courses from our sponsor, Fort Dodge Animal Health.
Our topic this week is BVD VACCINE: "PRIMING" IMMUNE RESPONSE.

Fort Dodge Animal Health's Mark van der List, DVM, technical services consultant, explains some of the current research suggesting you can get a better vaccine response by leading a pre-breeding modified-live with a dose of killed vaccine during the dry period.
WHEN TYPE II BVD EMERGED in 1993, killing half the cows it infected in some herds, it reminded all of us about the importance of vaccinating to help prevent BVD outbreaks. Today we've entered a new phase of BVD control, one aimed at preventing clinical disease, as well as stopping the virus by preventing Persistent Infection.
It is commonly thought killed vaccines have been pretty effective in limiting death, abortion and other losses, while modified-lives may have some additional advantages in preventing PIs. By using a killed vaccine like TRIANGLE® followed by a modified-live vaccine like PYRAMID,® a producer has a convenient, effective program to break the BVD cycle.

Fort Dodge offers Pyramid to combat the BVD virus. You can read more about this disease in this full short course publication (pdf).