Developing new varieties of "redesigned" alfalfa with reduced lignin could not only benefit provide benefits for meat and dairy animals, but also play a role in the future of cellulosic ethanol production.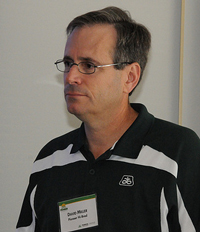 Pioneer Director of Alfalfa Research Dave Miller says they believe cellulosic ethanol will need multiple feedstocks and alfalfa is a good fit for a number of reasons. "It's great for crop rotation, its environmental benefits in terms of lack of soil erosion because it's deep rooted and a perennial are well known, and it fixes nitrogen."
In addition, Miller says preliminary work shows alfalfa is competitive with other feedstocks for its ability to convert to cellulosic ethanol and that a corn/alfalfa rotation creates a very favorable carbon footprint for ethanol production.
Producing varieties with less lignin would be helpful in making alfalfa even more competitive as a cellulosic ethanol feedstock. In addition, the reduced lignin alfalfa also has benefits with its more traditional use as livestock feed. "When animals are fed lower lignin forage, they perform better," said Miller. "Both systems are digestions, one is an enzyme-acid digestion to go into a fermentation vat, the other is a digestion to make milk or meat."
The U.S. Dairy Forage Research Center estimates that just a 10 percent increase in cell wall digestibility by decreasing lignin would increase milk and beef production by $350 million per year and decrease manure production by 2.8 million metric tons annually. Pioneer is working in cooperation with the Consortium for Alfalfa Improvement on reducing the lignin content of alfalfa.
Pioneer Forage Media Day Photo Album
Listen to or download an interview with Dave Miller here: