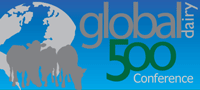 Immediately following this week's World Dairy Expo is the Alltech Global Dairy 500 Conference. Cindy gets to attend Expo while I get to attend the Alltech Conference. During the Conference in Lexington I'll be conducting interviews and posting them here.

"A global forum where dairy is the only topic and dairy farmers the main drivers"
2008 was a banner year for Alltech on many fronts including the inception of the Global Dairy 500 Conference. Over 300 dairy professionals representing over 40 nations assembled in Lexington to share ideas, experiences, and their own personal vision on the future of dairying worldwide.
Join us in 2009, as Alltech will renew its commitment to producers by again hosting the Global Dairy 500 Conference.