World Dairy Diary coverage of World Dairy Expo is sponsored by: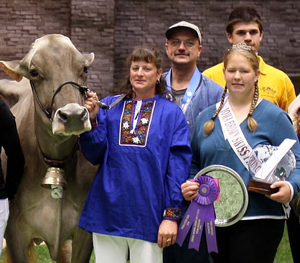 The legendary Snickerdoodle became a six time Grand Champion today in the Central National Brown Swiss Show at World Dairy Expo.
This 11-year old owned by Allen Bassler, Jr. of Upperville, Virginia added one more title to her barn full of ribbons and plates. Old Mill E Snickerdoodle OCS has been named Grand Champion of the Central National Brown Swiss Show in 2002, 2003, 2004, 2005, and 2008. Last year, Snickerdoodle was also named Reserve Supreme Champion of the World Dairy Expo. This amazing animal is also a seven-time All-American Brown Swiss and was Supreme Champion of the All-American Dairy Show for the second year in a row.
What a cow! Read more about Snickerdoodle's historic achievement here from World Dairy Expo.
Photo courtesy of World Dairy Expo. See more photos from World Dairy Expo here.