World Dairy Diary coverage of World Dairy Expo is sponsored by: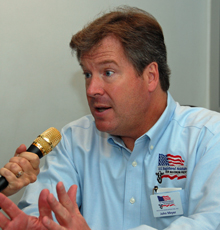 This edition of the Milking Parlor podcast focuses on the Dairy Price Stabilization Program proposed by Holstein Association USA as a way to address the current dairy industry economic situation and minimize milk price volatility for the long term.
I spoke with John Meyer, executive secretary and CEO of Holstein Association USA, about the plan during an interview at World Dairy Expo. "One of the beauties of this program is that nothing has to be affected," Meyer says. "The Dairy Price Stabilization Program does not require the Farm Bill to be opened, nor does it affect any of the current dairy programs. It's a very simple thing to be implemented and it can be done very quickly."
Meyer says they are getting good industry support for the plan and hope to get a bill written and considered by Congress, possibly as early as the end of this year.
Listen to this podcast here:
[audio:http://www.podtrac.com/pts/redirect.mp3?http://zimmcomm.biz/wdexpo/milking-parlor-wdx09.mp3]
Subscribe to the Milking Parlor podcast here.
Listen to or download this podcast here: