Frosty may have been crowned the supreme champion at World Dairy Expo 2009 on Saturday night, but it was the legendary Snickerdoodle who stole the show.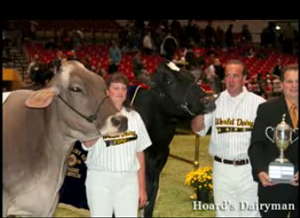 The sweet 11-year-old Brown Swiss is an eight-time class winner, six-time World Dairy Expo Champion, and was named Supreme Champion in 2003 and Reserve Supreme Champion in 2008. At six years and nine months of age, she produced 33,426 pounds of milk, 1,405 pounds of fat and 1,176 pounds of protein. Snickerdoodle has produced 315 good embryos in her lifetime. She is a seven time All-American and was also named All Time All-American as a 2-, 4- and 5-year old. Snickerdoodle has over 100 registered offspring in the U.S. with seven nominated All-American and one named All-American. Eighteen sons are currently being sampled in the A.I. industry and fourteen of her son's daughters have been nominated All-American.
The Supreme Champion was Harvue Roy Frosty, a five-year-old Holstein cow from Rudolph, Wisconsin,exhibited by Mike and Julie Duckett, Jim and Nancy Junemann and Scott Armbrust. Currently classified EX-95, Frosty was bred by Dave and Debra Hardesty of Berryville, Va. Frosty was the 2007 All-American Senior 3-Year-Old, was Intermediate and Reserve Grand Champion and 1st Senior 3-Year-Old of the 2007 International Holstein Show and was nominated All-American Senior 2-Year-Old in 2006.
The photo is from the Hoard's Dairyman Expo Blog. Check it out to see more show shots and news. Information on all the World Dairy Expo competition winners is available here on the expo website.
Other photos from World Dairy Expo can be found here: World Dairy Expo Photo Album
Thanks to our sponsors of the 2009 World Dairy Expo coverage on World Dairy Diary: