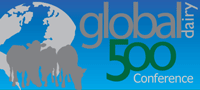 The Global Dairy 500 Conference sponsored by Alltech gets underway today as a group of attendees are on a tour today. Alltech's Allie Hembree is with that group and I'll have information and photos from the tour later on.
Here's a note I received from her via email just now:

Good Morning on this beautiful Sunday! We are on our way! The buses have left Lexington and Madison. Currently the Lexington buses are driving through Indiana with cornstalks to my left and flat land on my right. We are having some snacks and watching some interesting episodes of "Dirty Jobs", which features Fair Oaks Farm in one episode. The day started off with an early wake up call from the hotel and some coffee. We are about half way through our journey to Fair Oaks, and everyone is anxious to get there. Did you know Fair Oaks houses 32,000 dairy cows on their farm? We will keep you updated throughout our trip.

In the meantime you can follow along with Allie on the Alltech Tweets Twitter account.
World Dairy Diary coverage of the Global Dairy 500 Conference is sponsored by

.