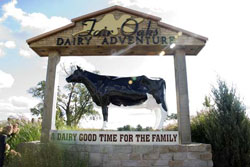 Attendees to the Global Dairy 500 Conference sponsored by Alltech had a great tour today. Alltech's Allie Hembree passed along this note just a little while ago:

Did you know that at Fair Oaks Farm they can milk 500 cows in one hour, ship 40 semi truck loads of milk a day, where the cows drink 30 gallons of water and eats 100 pounds of feed? The Global Dairy 500 Delegates got to witness the birthing of a calf, take a bus tour of the farm, learn how exactly they are capable of milking 500 cows by observing the rotary milker, and even taste some delicious Fair Oaks ice cream. I think we all agree, that was some good ice cream.

Remember to follow along with Allie on the Alltech Tweets Twitter account.
World Dairy Diary coverage of the Global Dairy 500 Conference is sponsored by

.