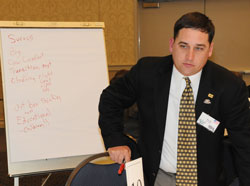 After the morning sessions and lunch the Global Dairy 500 participants sit at discussion tables. These breakout sessions are very lively and interactive and on many different topics.
I followed along with one led by Brent Lawrence, Alltech. Brent handles the southeast territory of Florida and Georgia. At his table were dairy farmers from the USA, Germany, Korea and the Ukraine. He says the main topic dealt with the sustainability of the dairy industry. They discussed the need to educate the public and be environmentally friendly.
I shot a video clip so you can get a true feel for what the sessions are like.
2009 Global Dairy 500 Conference Photo Album
You can listen to my interview with Brent below.
World Dairy Diary coverage of the Global Dairy 500 Conference is sponsored by

.