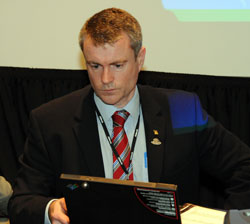 Dinner time last night at the Global Dairy 500 Conference featured multiple subject discussions. You picked your topic and then participated in a discussion after eating.
I attended the Silage Discussion Dinner led by Matthew Smith, Alltech. You can see Matthew getting his slides ready for the start of the discussion. He works for the company in New Zealand and has focused on silage during his career. When it comes to silage he says he encourages producers to "get excited about it." He says the important thing to remember is how important it is as a feed ingredient. Deciding what seed to put in the ground is one of the most important decisions to make up front according to Matthew.
Here at the dinner his hope was to present silage as "good news." He says cutting your way around the corners with silage in your operation is just not the way to go.
You can watch a portion of Matthew's discussion dinner here.
2009 Global Dairy 500 Conference Photo Album
World Dairy Diary coverage of the Global Dairy 500 Conference is sponsored by

.