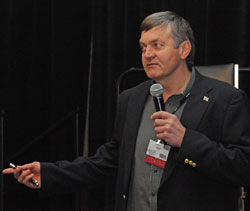 What are the 5 things you would do differently in dairy today? That was the question our opening panel on the final day of the Global Dairy 500 Conference had to answer. Amazingly they each seemed to have very similar answers.
I spoke with panelist Nigel Lok, Nigel Lok Family Trust, South Africa. He says they milk about 700 cows.
His 5 things include:
Feed cows properly and individually.
Body condition is king.
Dry period and transition is crucial.
Grow heifers to genetic potential.
Do Not Crossbreed!
You can listen to my interview with Nigel below:
2009 Global Dairy 500 Conference Photo Album
World Dairy Diary coverage of the Global Dairy 500 Conference is sponsored by

.