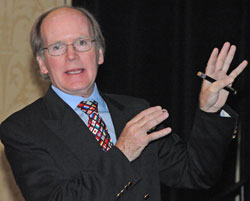 Wrapping up the Global Dairy 500 Conference was Dr. Pearse Lyons, Alltech President. Dr. Lyons summarized many of the presentations with a series of take home messages. The focus was on the future of dairy farming, the integration of a brand, methane production, cow comfort, tourist attractions, education, milk marketing with nutrition also being a key topic. Additionally, a strong message that came out of the presentations was to "record the data" and that body conditioning is critical. As Dr. Lyons said, "Talk to the cow and the cow will talk to you."
During his closing remarks Dr. Lyons introduced the Agri Aware program that Alltech has sponsored. The educational program for school children of all ages now has it's first video module featuring "A Day in the Life of a Dairy Farmer." We watched the video and then Dr. Lyons called on participants to go back home, take the program and have it translated into their languages.
You can listen to Dr. Lyons remarks below. And don't forget to check out my photo album from the event. If you didn't attend you can see what you missed!
2009 Global Dairy 500 Conference Photo Album
World Dairy Diary coverage of the Global Dairy 500 Conference is sponsored by

.