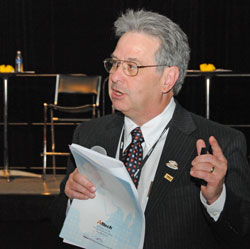 The final panel discussion at the Global Dairy 500 Conference focused on future technologies in the dairy industry. Presenting were Matthew Smith, Alltech and Dr. Karl Dawson, Alltech.
I spoke with Dr. Dawson immediately following his remarks. He says some of the technologies in methane recovery offer a new cost saving line for the farmer by producing bioenergy. Feed management technologies offer a lot as they change, especially in nitrogen management. He says their goal was to bring these to the attention of the dairy farmer so they will consider them as they make future plans.
You can listen to my interview with Dr. Dawson below:
2009 Global Dairy 500 Conference Photo Album
World Dairy Diary coverage of the Global Dairy 500 Conference is sponsored by

.