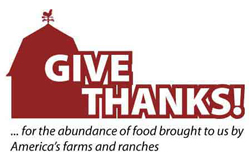 As we prepare for the holiday season, the Beef Checkoff is reminding people to give thanks for our abundant food supply.
In giving thanks, you may also receive. Leaving a message of thanks for our farmers and ranchers on the Pasture to Plate website enters you into a drawing for an Omaha Steaks Ideal Gift Collection of steaks and burgers valued at $135.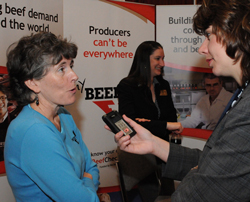 At the National Association of Farm Broadcasting meeting last week, Massachusetts dairy farmer and Cattlemen's Beef Board chairman Lucinda Williams talked about giving thanks and the simultaneous campaign to get producers to be active in telling the real story about food production in this country by engaging in the "Food Fight" effort.
She says they are encouraging producers to get out an tell that story on Facebook and Twitter and email, (as well as traditional methods like actual face to face communication!) and encouraging everyone to give thanks for the safe and abundant food supply we enjoy in this country. Lucinda has just started on Twitter and you can follow here here @mcwillclan.
Listen to an interview with Lucinda from NAFB here: