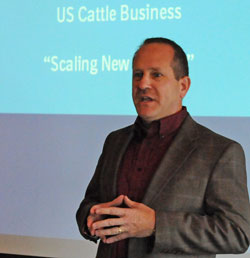 With the acquisition of Ft. Dodge Animal Health products and facilities, Boehringer Ingelheim Vetmedica has really expanded their business in the dairy industry. The head of the U.S. cattle business is Colin Meyers. He spoke at the media event I attended in St. Joseph, MO.
Colin says the main thing the acquisition of Ft. Dodge Animal Health means to the company is that they now have a much broader range of products to offer. For the dairy sector they now offer Pyramid, Triangle, Presponse, Today and Tomorrow mastitis therapy, Cydectin and more.
Colin says they'll have a larger sales and veterinarian force to reach out to customers and a bigger distribution network. They've spent the last three weeks bringing in new staff, distributors and others to help enable a smooth transition for customers.
You can listen to my interview with Colin below.