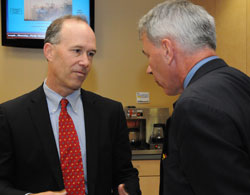 Now that Boehringer Ingelheim Vetmedica has taken over a significant portion of Ft. Dodge Animal Health you may be wondering what it means to the company and dairy producer customers. To help us find out, BIVI brought a group of media representatives into St. Joseph, MO to hear the story.
I spoke with BIVI President, George Heidgerken (pictured on left), about changes in the company after the acquisition. He says the purchase is a big deal for BIVI here in the United States and globally since it essentially doubles their business including their ability to innovate in the future. While merging the two company cultures he says they will maintain the BI vision and mission and how they achieve them.
George says they can take the best of both companies, put them together and get excited about what they can achieve. They're calling it the "new BIVI." He says that full integration may take a couple years although they hope to achieve that sooner. The products they've acquired fit in perfectly with their existing portfolio and expand their cattle, dairy and pet business. The vision for the future of the company he says, is "value through innovation."
You can listen to my interview with George below.
Here's a group of photos from the media event last Thursday Boehringer Ingelheim Vetmedica Media Day Photo Album