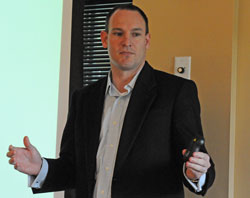 It sure sounds like Boehringer Ingelheim Vetmedica did very well in the cattle market with their acquisition of a portion of Ft. Dodge Animal Health. To tell us about is Tim Bettington, Director Livestock Marketing. I spoke with him at their recent media day in St. Joseph, MO. He says that although BIVI has been a long standing player in the cattle business it has only been in certain segments like the stocker and feedlot sector. But now he says they have great opportunities in the cow/calf and dairy sectors.
According to Tim, the stand out products will be Cydectin, Today and Tomorrow Mastitis Tubes and newer vaccines like Triangle. He says that although there is an integration of staff, customers will see the same look and feel of the products and deal with the same representatives they were dealing with.
You can listen to my interview with Tim below.