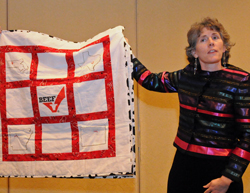 Dairy farmers are also beef producers and their representation on the Cattlemen's Beef Board which administers the $1 per head beef checkoff was at the very top level this past year in chairperson Lucinda Williams, a dairy producer from Massachusetts. Despite keeping up a hectic schedule of meetings this past year, Lucinda still managed to find time to make checkoff-themed quilts for the staff and other board members, which she presented during the recent Cattle Industry Conference in San Antonio where she ended her term.
This episode of the Milking Parlor podcast features some comments from Lucinda about how the industry needs to address threats from animal activists, as well as from incoming Beef Board chairman Dan Dierschke about Lucinda's work on behalf of producers, and from Ted Greidanus, a California rancher who breeds Holstein calves for the beef industry.
To subscribe to the Milking Parlor podcast, click here. Listen to or download this episode in the player below.
The Milking Parlor podcast is sponsored by: