The Milking Parlor podcast is sponsored by: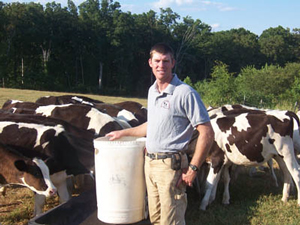 He's the man behind the YouTube hit, "Water and Poo," and now he's also the new chairman of the American Farm Bureau Federation's Young Farmers and Ranchers Committee. In this episode of the Milking Parlor, we meet Will Gilmer, a third-generation dairy farmer from Alabama, whose operation milks about 230 holsteins. And when those chores aren't enough, he's racking up more than 14,000 (and counting) views of his clever ditty sung about what to do with the waste from his cows, as he spreads that nutrient management across his pastures.
And if all that isn't enough, Gilmer maintains a Web site, www.gilmerdairyfarm.com, along with The Dairyman's Blog, in an effort to reach out to the public about modern farming practices. Gilmer also is active on the micro-blogging Web site Twitter under @gilmerdairy.
You can hear more of Peoria farm broadcaster Meghan Grebner's interview with Will in this episode of the Milking Parlor in the player below. And if you haven't seen Will's hit, "Water and Poo" (and even if you have seen it!) it's available right here:
To subscribe to the Milking Parlor podcast, click here. Listen to or download this episode in the player below.