Pfizer Animal Health has launched a new online resource — www.milkqualityfocus.com — offering technical and actionable information on mastitis management and milk quality.

"We understand the challenges dairy producers face and the constant commitment they must have to manage mastitis and produce high-quality milk," says Dr. Bradley Mills, DVM, Veterinary Operations, Pfizer Animal Health. "With more stringent European Union somatic cell count (SCC) standards on the way, Milk Quality Focus will provide a timely and valuable source of technical, practical and easy-to-use information on mastitis and milk quality."
Each month, Milk Quality Focus will feature video perspectives from industry experts, veterinarians, dairy producers and processors on a new topic that incorporates the most recent research and efficacy data on mastitis therapies; practical and easy-to-implement advice on mastitis management; and insight on ways to improve milk quality and increase productivity.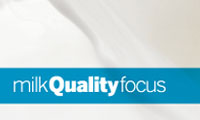 The video series currently posted explores dry cow mastitis therapies. Future videos will highlight benefits of extended therapy and broad-spectrum treatment, how milk quality impacts the bottom line, the incidence and management of coliform mastitis, positive impacts of a structured milk quality management plan, and the milk quality supply chain.
Pfizer advises dairy producers to use Milk Quality Focus as a starting point for discussions with their veterinarian or animal health representative about improving their mastitis management program.