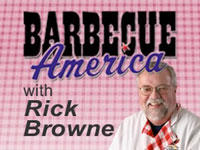 July is National Ice Cream Month, and it's also one of the biggest months of the year for barbecues – so why not have both at your next cook out?
Rick Browne, host of Barbecue America and self-proclaimed "Grill Master of the Universe," has a recipe for barbecued ice cream – or grilled Baked Alaska – that is sure to be a crowd pleaser.
Watch the "How to" YouTube video here.