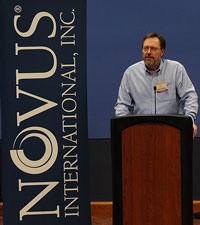 2010 JAM, the joint meeting of the American Dairy Science Association (ADSA), Poultry Science Association (PSA), Asociación Mexicana de Producción Animal (AMPA), Canadian Society of Animal Science (CSAS), American Society of Animal Science (ASAS), and ASAS Western Section (WSASAS) was held earlier this month in Denver, Colorado.
This month's "Milking Parlor" podcast features Gary Winter with Novus International talking about some of the research presented at the meeting and what it means for dairy producers. Gary also provides some information about Novus – the research and field trials that they do, recent acquisitions and their commitment to the dairy industry. Dairy professionals will be interested to know that while Novus is a fairly new name in the animal health field, they actually have a five decade history behind them.
Listen to or download the podcast here:
Milking Parlor Podcast with Gary Winter
To subscribe to the Milking Parlor podcast, click here. Listen to or download this episode in the player below.
The Milking Parlor podcast is sponsored by: