The first robotic milking farm in the United States will host an open house next month to highlight the latest in robotic milking technology ― the Lely Astronaut A3 Next.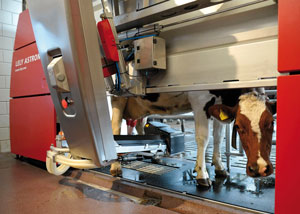 The event will be held at Knigge Farms near Oshkosh, Wisc., which became the first U.S. robotic milking farm ten years ago. In May of this year, the Knigge's replaced their original Lely Astronaut equipment with the Lely Astronaut A3 Next.
After installing the new equipment, the Knigges shared the news on their Facebook page: "We installed new Lely robotic milkers. The cows seem to like them quite well. Crew from Central Ag Supply Inc. have been here for 48 hrs now, sleeping in their truck to make sure it's all working." That just goes to show that dairy farmers are among the best in the agriculture industry at using new social media as well as using new technology!
Attendees at the September 14 event at the Knigge operation will have the opportunity to view the A3 Next in action and have questions about robotic milking technologies answered by experts in the field. The open house is being hosted by the Knigge family and Central Ag Supply Inc.
You can see more photos of the A3 Next on the Lely website. Lely also has a Facebook page, and a Twitter account – http://twitter.com/dairyrobot. We love to see that!