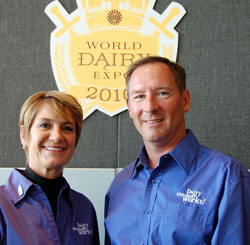 Dairy farmer representatives of the National Dairy Board were working as hard as the dairy checkoff does here the first day of the World Dairy Expo.
I had the opportunity to chat with NDB chairman Paula Meabon of Pennsylvania and Wisconsin producer and representative on the board Randy Roecker about some of the dairy checkoff funded programs that they are most excited about.
Paula is thrilled with the "Fuel Up to Play 60" health and fitness initiative for children in partnership with the National Football League. "We're in 64,000 schools, we've got 36 million children involved with Fuel up to Play 60 to learn how not only to eat right with dairy, but the four food groups," Paula says. "Exercise and the star power of the NFL."
Randy is excited about the dairy checkoff food partnerships with companies like McDonalds. "A lot of you have seen the advertising for the new frappe and the smoothie line. I hope everyone has tried them by now," Randy said. "Just those two use millions and millions of pounds of milk. The smoothie alone has a lot of yogurt involved in it." He adds that McDonalds new Angus wrap uses a whole piece of cheese, as opposed to just a half in the Big Mac snack wrap. He's also pleased with partnerships the checkoff has with Dominos and Yoplait.
Listen to or download my interviews with Paula and Randy here: Dairy Checkoff Interview
2010 World Dairy Expo Photo Album