Increasing the frequency of RFID could be as revolutionary for the dairy industry as FM was for radio.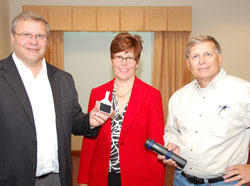 A company called Eriginate has developed the technology to move RFID at the speed of commerce by using ultra high radio frequency (UHF) to tag identify large groups of moving animals, compared to the common electronic systems today that use low frequency (LF) radio waves to read individual tags at short distances.
Company principals (and siblings) Bob, Mary and Tom Baarsch gave a presentation of the eTattoo UHF cattle tag system to a selected group of industry representatives at World Dairy Expo this week. "It's the first tag approved by any government for tracking cattle that's in the UHF bandwidth, which means 900 megahertz which runs 1000 times faster than low frequency RFID tags," said company CEO Bob during an interview.
That is what allows the system to read tags up to 20-30 feet away, which means tag readers can be mounted over head in a dairy barn alleyway to capture readings as the animals move in and out on a daily basis. Earlier this year, Eriginate did a pilot test of the system at a dairy operation in Minnesota. "We got over a 99 percent capture of animals coming in and out of the parlor," Bob said. They also tested the system in Brazil and are getting interest from other countries as well.
Right now, the company is looking for partners that will take the readers, tags and software and put them together in a total package solution.
Find out more about the technology in this interview with Bob: Bob Baarsch Interview
Watch a demonstration of the technology here on YouTube.

2010 World Dairy Expo Photo Album