2010 World Dairy Expo Photo Album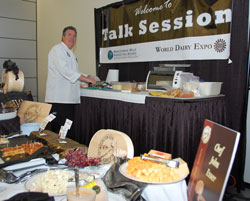 Since World Dairy Expo is held in the nation's number one cheese producing state, it's no surprise to find that cheese is just about everywhere.
One of the special events for the media at the expo is the Talk Session, sponsored by the Wisconsin Milk Marketing Board each year. It gives the media a chance to do interviews with some of the newsmakers at the expo while sampling an assortment of fabulous cheese pairings and recipes cooked up by Chef John Esser. Each year Chef Esser tantalizes our taste buds with special treats, including gourmet grilled cheese concoctions that can be found on the WMMB's Grilled Cheese Academy website.
I shot a little video here with Chef Esser describing some of the highlights on the table this year: