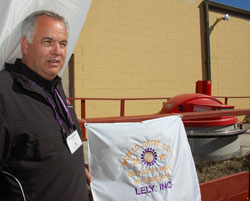 A brand new feedpusher named Juno helped Lely, Inc. win Best Outdoor/Intermediate Booth at World Dairy Expo this year.
I talked with Peter Langebeeke, president of North America operations for Lely, about the new feedpusher and some of the company's recent accomplishments. "Lely started out 60 years ago making farm equipment on the farm of the brothers van der Lely," said Peter. "Ten years ago we brought the robot to the U.S. and we started at the Knigge Farm in Wisconsin." Lely held an event at the Knigge Farm in September to celebrate the milestone and to highlight the latest in robotic milking technology ― the Lely Astronaut A3 Next.
Juno the Feedpusher is the newest robotic technology introduced by Lely and they were very pleased with all the attention it was getting on display for the first time at World Dairy Expo. "Everybody realizes that feed pushing is important if you want to make sure that cows have feed in front of them all the time," Peter said.
Listen to my interview with Peter from World Dairy Expo here. Peter Langebeeke Interview
Watch Juno in action here:
2010 World Dairy Expo Photo Album