Today in Reno, Novus International introduced an innovative program to help dairy producers enhance the comfort and well-being of their herds so they can better maximize productivity and enrich dairy industry sustainability. The Novus C.O.W.S. program launched with a new website – www.novuscows.com.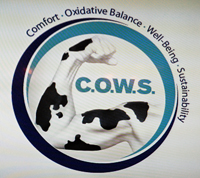 C.O.W.S. stands for Comfort, Oxidative Balance, Well-Being and Sustainability. Each of these four key pillars of the program play an integral role in the objective, systematic approach Novus takes in helping dairy producers evaluate the major factors that impact productive efficiency.
The C.O.W.S. program will be offered to individual key Novus customers as a complementary, value-added service. Confidential farm evaluations will be performed by Novus specialists and include:
• Cow lying time measured with electronic data loggers;
• Gait scores and hock health;
• Facility design and management measures that affect cow comfort
A customized report is provided to each farm, along with benchmarks of other operations in the region, so producers can gauge whether they have problems that should be addressed.
U.S. program benchmarks are currently being established through the evaluation of 140 dairy operations in California, New Mexico, New York, Vermont, Pennsylvania and Texas. The program is based on a recently completed study by the University of British Columbia Animal Welfare Program that analyzed on-farm cow comfort assessment with 43 free-stall dairies in that province.
Find out more in this introductory video from Novus: