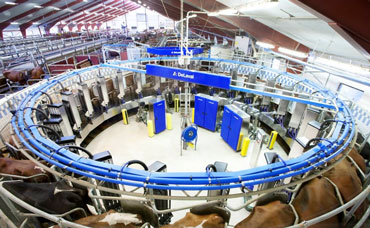 International journalists recently had the opportunity to see DeLaval's first automatic milking rotary, the DeLaval AMR™, in action at a 400 head dairy operation in Sweden that has been testing the technology since last year.
Karin and Stefan Löwenborg of Gamleby, Sweden say they can milk 390 of the dairy's cows in a 24-stall rotary parlor and it has been a time saver for them. "You have more time to take care of the sick animals," said Karin. "You can milk 90 cows an hour, 900 cows in 10 hours, twice a day," adds Stefan.
A few of the cows are still milked by hand, but the Löwenborg's say they have kept all of their help. "They can do other things during the milking time," Karin said.
Watch a DeLaval video featuring comments from the Löwenborg's here: