According to World Dairy Expo officials, the 2011 World Dairy will go down in history as a record-setting success.
This year a record 2,587 head of dairy cattle were exhibited at the Dairy Cattle Show by 1,130 exhibitors from 37 states and seven Canadian provinces. The trade show set new participation levels with 810 companies from 28 countries, including 130 first time exhibitors.
Youth contests also set record levels of participation. Over 3,200 FFA members attended World Dairy Expo and many participated in the Central National FFA Events. A record 705 entries competed in the Championship Dairy Products Contest this year in hopes of using the title to promote their dairy product. The World Forage Analysis Superbowl entries also set a new record with a 43% increase in entries from 23 states.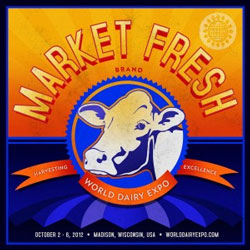 Sunny skies and unusually warm weather helped to create a memorable event for all that participated in the 2011 World Dairy Expo. Total attendance for World Dairy Expo was 68,006 visitors, with 2,699 registered international guests from 90 countries. Visitors from Canada, Mexico, Ireland, China and Germany topped the list of international guests during the five-day event.
We have officially finished up our coverage from the 2011 World Dairy Expo and are already looking ahead to next year, October 2-6, 2012 as always at the Alliant Energy Center in Madison, Wisconsin. 2012 World Dairy Expo theme will be "Market Fresh". Wonder what color the shavings will be?
Thanks to our great sponsors this year – Alltech, Accelerated Genetics, Charleston Orwig, Dairy Business Association and Hoard's Dairyman.
2011 World Dairy Expo Photo Album
World Dairy Expo coverage sponsored by Charleston Orwig Dairy Business Association Alltech Hoard's Dairyman Accelerated Genetics