Coming up next week in Lexington, Kentucky is an event that dairy and beef producers should not miss.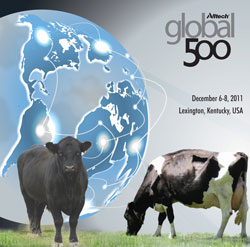 Since 2008, more than 800 of world's most progressive dairy and beef producers have convened for the Alltech Global 500 to network and discuss the most relevant and challenging topics in the industry.
This year, the Global 500 explores the future landscape for the dairy and beef industries and provides a rare opportunity for global colleagues and friends to engage in open discussion on critical topics such as sustainable strategies and practices that can be implemented now and in the future.
I talked with Alltech Beef Division Manager Ty Yeast about the event, which will be held December 6-8. "Originally it started as a dairy event and with the success after the first two years in the dairy event, we expanded to the beef side as well," Ty said. "Last year was our first ever addition of the beef event and we had over 125 participants from all over the world." This year, Ty says they already have more than doubled last year's registration.
Ty says the conference is really about looking at new ways of approaching a business that's been around for a long time. "It's innovation, it's looking at new ways of doing things, and really breaking old paradigms on how to move forward and get to that next level of efficiency.
Interested producers can still register for the event by going to the Global 500 website. You can be sure it will be worth your while.
Listen to or download my interview with Ty here: Ty Yeast - Alltech Global 500