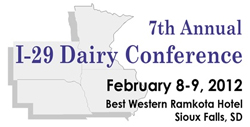 The Seventh Annual I-29 Dairy Conference coming up Feb. 8 and 9 in Sioux Falls will Focus on Global Dairy Issues under the theme, "Now and in the Future."

The event is coordinated by dairy extension specialists from South Dakota State University, North Dakota State University, Iowa State University, University of Minnesota and the University of Nebraska. Additional partners coordinating the conference include Midwest Dairy Association and Southwest Minnesota Dairy Profit Group.
Speakers and topics with global impact headline this year's conference. Neil Baker, a dairy producer and sustainable agriculture award winner from the UK and a top-notch slate of dairy industry experts will focus on global dairy issues and sustainability topics at the seventh annual I-29 Dairy Conference. Noted University of Minnesota climatologist Mark Seeley, Stan Erwine, Dairy Management, Inc. as well as Dave Casper, SDSU; Marin Bozic, UM; and a panel of producers and industry stakeholders will cover issues affecting your future dairy business.
Interested producers should complete the online registration form by Feb. 1 to ensure room availability at the Ramkota Inn in Sioux Falls.