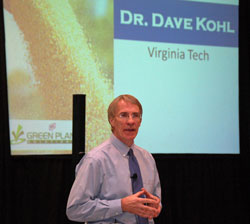 Dr. Dave Kohl is a well-known agricultural economist from Virginia Tech who gives talks around the country and the world about agriculture and global macroeconomics.
Besides being an agricultural economist, Dr. Kohl is also a value-added dairy producer with two operations, including Homestead Creamery located in the Blue Ridge Mountains. "We put in a processing plant about 11 years ago and we bottle milk in the old-fashioned glass bottle," he said. "We're selling about 50,000 gallons of milk a month to Kroger stores, Whole Food and also Earth Fare. We're not organic, we're local and natural."
Kohl says they also sell 41 flavors of premium ice cream, as well as eggnog and custard. "We also launched home delivery about five years ago, we have 1250 customers," he said. "Who's our customer? Females with children and affordable homes."
I had the opportunity to hear Dr. Kohl at an FS Green Plan Solutions Pursuit of Maximum Yields event in Collinsville, Illinois last week. During his talk, Kohl discussed the importance of the BRICS nations (Brazil, Russia, India, China and South Africa) to U.S. agriculture. "You have an agriculture economy that is doing extremely well because they're connected with the BRICS nations that are demanding food, fiber and fuel," he said. "It's important to keep an eye on those BRICS nations more than just the U.S. economy in developing your agricultural plans." He also talked about "black swans," mega trends, top challenges, and the connectivity of agriculture.
My favorite quote from his talk is "The best crop you can raise is your children."
Listen to Dr. Kohl's talk here: Dr. Dave Kohl Speech
Listen to my interview with Dr. Kohl here: Dr. Dave Kohl Interview