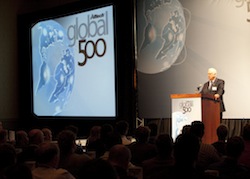 Ruminating on the future of beef and dairy farming will be the topic of discussion at Alltech's 5th Annual Global 500. The event will feature industry experts who will address the changing future of the dairy and beef industries. Last year's event was a success with 700 attendees and they are expecting over 1000 this December 4-6 in Lexington, Ky.
"Global 500 has gone from a powerful event to an astounding event," said Dr. Pearse Lyons, president and founder of Alltech. "In a few short years we've managed to get some of the industry's most successful producers to attend and get involved in discussions that are paving the way to a future of opportunity and profitability."
Producers and industry leaders will have the opportunity to network, discuss and discover new opportunities and challenges for 2013. The program will feature presentations on branding, social media in agriculture and finding new opportunities in challenging times. In addition to an array of presentations, attendees will be invited to take part in discussion dinners, breakout sessions and a number of farm tours.
Dairy producers will explore topics including breakthroughs in nutrition, strategies to manage feed costs, and emerging markets.
Beef producers will delve into issues such as the future marketplace, consumer demands, meat quality, greenhouse gasses and feed yard management.
Registration for Global 500 is $325, but for all those early birds out there register by November 9 for only $200. This will include all sessions, organized functions, luncheons and dinners. Register today and use the invitation code G124.